SPINNER VASE, 2022
Regular price
€1.000,00
/
---
For custom orders, call us or Whatsapp at +33 607972017
---
Unique piece
Made in Brussels
Signed by the Artist
French Cliche exclusive
Through this vase, Nicolas Zanoni offers an unusual marriage of robustness and vitality, embodying the fusion of strength and protection. At its centre is a protein pot, a symbol of growth and resilience. Enclosed in aluminium armour, it displays an unshakeable confidence in the face of the challenges that lie ahead.
Raised on roller-skate wheels, this vase adopts a dynamic posture, allowing it to turn on itself. The Spinner vase is part of a larger body of works by the designer. 
Object details 
. Aluminium and recycled polyurethane 
. Ø30 x H 30 cm
. Unique piece 
. Signed by the artist
. Exclusive to French Cliché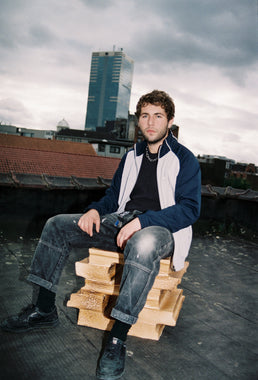 Born in Paris in 1995, Nicolas Zanoni is a versatile designer who embarked on his creative journey after graduating in industrial design from La Cambr
e. At the heart of Zanoni's artistic philosophy lies a profound commitment to materials. His work is a testament to the power of listening to these materials, allowing them to guide the design process. He takes a thoughtful approach by exclusively working with materials that have been overproduced by the industry, breathing new life into them through his designs.  
...see more