CHAIR BRULÉE, 2022
Nicolas Zanoni
Regular price
€458,33
/
---
For custom orders, call us or Whatsapp at +33 607972017
---
Made in Belgium
20 + 2AP
Exclusive French Cliché
Stool or side table, these objects are part of a material research led by Nicolas Zanoni.  Made up of 4 layers of extruded Polystyrene processed by fire, it gives to each piece a unique caramelized aspect. Through this process the surface gets glazed and shows a new aspect of the material. Declined in green and ochre, this limited edition of 20 is signed and numbered. It's light and crunchy,  sunburnt but rain resistant.

Object information

. Extruded polyester 
. 40 x 40 x 40 cm
. Edition of 20 + 2 AP 
. Handcrafted in Bruxelles
. Exclusive to French Cliché
. Shipping quote on demand : bonjour@frenchcliche.com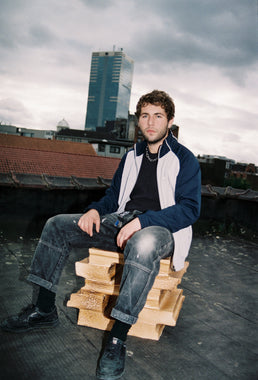 Born in Paris in 1995, Nicolas Zanoni is a versatile designer who embarked on his creative journey after graduating in industrial design from La Cambr
e. At the heart of Zanoni's artistic philosophy lies a profound commitment to materials. His work is a testament to the power of listening to these materials, allowing them to guide the design process. He takes a thoughtful approach by exclusively working with materials that have been overproduced by the industry, breathing new life into them through his designs.  
...see more
Nicolas Zanoni
Nicolas Zanoni was born in 1995 in Paris. He graduated from industrial design at La Cambre and now works between Paris and Brussels. His practice is b
ased on a research process that leads to object shaped by listening to materials. He has a thoughful approach, working only with materials over-produced by the industry. Made of plastic and flame, in grey or in color, his formal language borrows from brutalism and flirts with trashcore.
...see more