CRATERS SIDE TABLE, 2022
Nicolas Zanoni
Regular price
€2.500,00
/
---
For custom orders, call us or Whatsapp at +33 607972017
---
Made in France
8 (unique)
Exclusive French Cliché
Bespoke
This work is the result of a long term research on the recycling of expanded polystyrene. As a waste, it takes the form of a compacted and crumbly block.
It is finally thanks to the fire that the material will change status, from factory waste to object. Thus become solid, the polystyrene is to be considered as material of structure. Its organic and burnt form reminds the most archaic lava stone, even though it is made of plastic.
For useful purposes, the plate is pressed, and made flat, revealing a smoky, marbled pattern.

Object information
. Polystyrene

. 45 x 40 x 50 cm
. Made in France
. Exclusive French Cliché
. Edition of 10
. Shipping quote on demande: bonjour@frenchcliche.com
. Bespoke inquiry bonjour@frenchcliche.com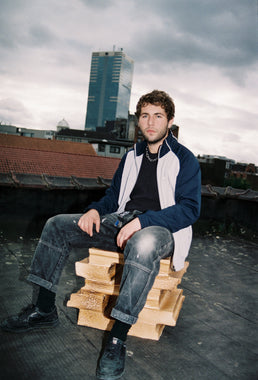 Born in Paris in 1995, Nicolas Zanoni is a versatile designer who embarked on his creative journey after graduating in industrial design from La Cambr
e. At the heart of Zanoni's artistic philosophy lies a profound commitment to materials. His work is a testament to the power of listening to these materials, allowing them to guide the design process. He takes a thoughtful approach by exclusively working with materials that have been overproduced by the industry, breathing new life into them through his designs.  
...see more
Nicolas Zanoni, artist
Nicolas Zanoni was born in 1995 in Paris. He graduated from industrial design at La Cambre and now works between Paris and Brussels. His practice is b
ased on a research process that leads to object shaped by listening to materials. He has a thoughful approach, working only with materials over-produced by the industry. Made of plastic and flame, in grey or in color, his formal language borrows from brutalism and flirts with trashcore.
...see more