CUEILLETTE JAUNE TAPESTRY MIRROR, 2022
Manon Daviet
Regular price
€5.750,00
/
---
For custom orders, call us or Whatsapp at +33 607972017
---
Handcrafted in Paris, France
Unique
Signed by the artist
Exclusive French Cliché
Bespoke
Inspired by basketry, fruit baskets and family kitchens, Manon Daviet has woven a large tapestry depicting a French kitchen. The collaboration with French Cliché, led Manon Daviet to experiment by adding a function to her work. Thus, a mirror was integrated into the large pastry, suggesting a window.
Object information
. Wool, wooden frame, mirror
. 100 x 85 x 3 cm
. Handcrafted in Paris, France
. Unique and signed by the artist
. Exclusive to French Cliché
. Shipping quote on demande: bonjour@frenchcliche.com
. Bespoke inquiry bonjour@frenchcliche.com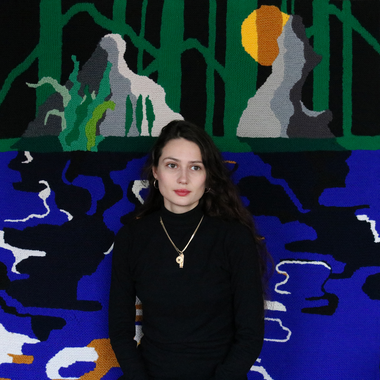 Since 2019, Manon Daviet has been producing contemporary wall tapestries using several techniques such as knitting, embroidery, crochet and tufting. I
n her work, she shows the beauty and mysticism of nature. Her graphic style is characterized by the use of vibrant colors and the synthesis of forms.
...see more